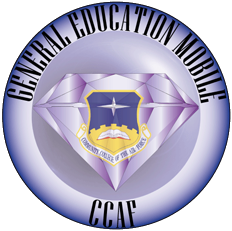 The Community College of the Air Force (CCAF) General Education Mobile (GEM) is an approved educational partnership with New Mexico State University–Alamogordo. The partnership permits Airmen and Guardians to complete 15 general education credits in a single block of courses in order to meet CCAF AAS degree requirement via online classes. NMSU-A offers 8- and 16-week courses during the fall and spring semesters and 5- and 10-week courses during the summer.
NMSU-A offers online courses in the areas of Mathematics, Written Communication, Oral Communication, Social Sciences, Humanities, Leadership and Management, and Sciences.
NMSU-A is a regionally accredited, nationally recognized, military-friendly university that offers DoD Tuition Assistance rates for eligible service members.
Degree-Seeking Students
CCAF students desiring to obtain a degree from New Mexico State University–Alamogordo can obtain more information from the Student Services web page.
Tuition and Fees
New Mexico State University–Alamogordo tuition for airmen and other military personnel who qualify for DoD Tuition Assistance is $78 per credit hour. Additional university and course fees may apply. A comprehensive list of our tuition and fees is available on the Business Office web page.  
Why choose New Mexico State University–Alamogordo?
Located about 6-miles from Holloman Air Force Base.
High-quality online instruction – all courses are Quality Matters certified.
Excellent and caring faculty.
We offer associate's degrees, certificates, and transfer degrees to 4-year institutions.
Online classes are capped at an enrollment of 25.
Free tutoring is provided through our Academic Support Center.
NMSU-A is widely recognized as a top military-friendly school.