Academic Support Center
Contact Information
Office Location:  Academic Support Center Building                                                              Phone: 575.439.3853                   

              Email:  Academic Support Center (ASC)

              Email:  Testing Center

              Staff:  Maria Saenz, ASC/PACE Director - Email Maria

                                           Like Us! 
The academic Support center provides online and face-to-face tutoring, CCDS Tutorial courses for credit including Math (CCDS 111N), reading (CCDS109N), and Writing (CCDS 113N), Accuplacer and MPEG Placement Testing, and Testing for all courses.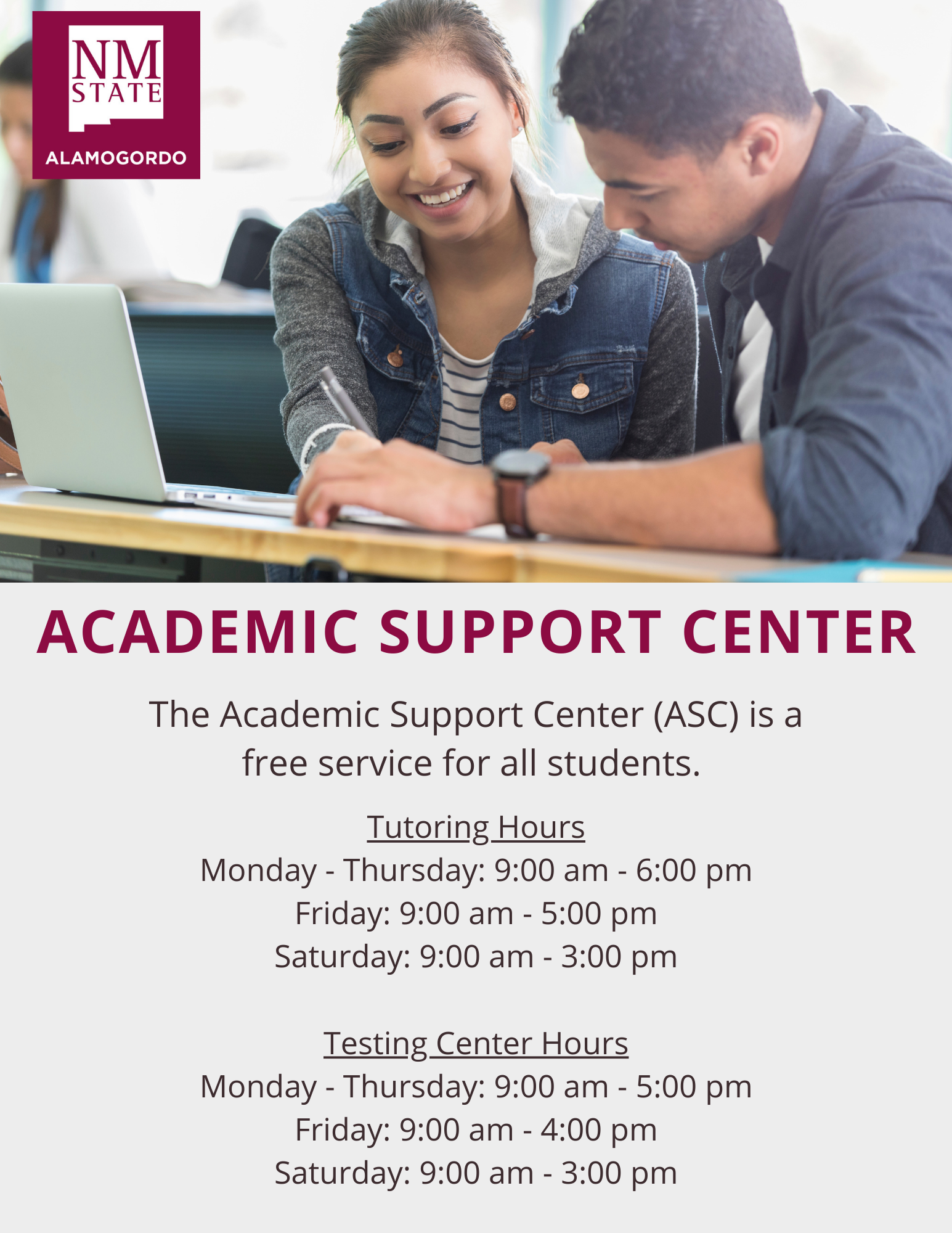 Writing Assistance
To receive online tutoring from the ASC, email paper to the Academic Support Center - NMSU-A, including the name of the class, instructor's name, and any comments or concerns about the assignment. A response will be received within 48 hours if submitted on a weekday, if submitted on a weekend, a response will be received 48 hours from Monday morning. 

BrainFuse, a web-hosted software program provides online tutoring assistance. Tutoring is available from a number of professionals in a variety of content disciplines. 
Students off-campus can go to the authentication page, log in using NMSU username and Banner ID as the password. 
Math & Science Tutoring
Tutoring is offered for all levels of Math, Computer Science, Biology, Chemistry, Physics, and Accounting.
* Due to the heightened safety measures surrounding COVID-19, the Academic Support Center has taken precautions through social distancing, requiring masks, and scheduling of appointments for testing.