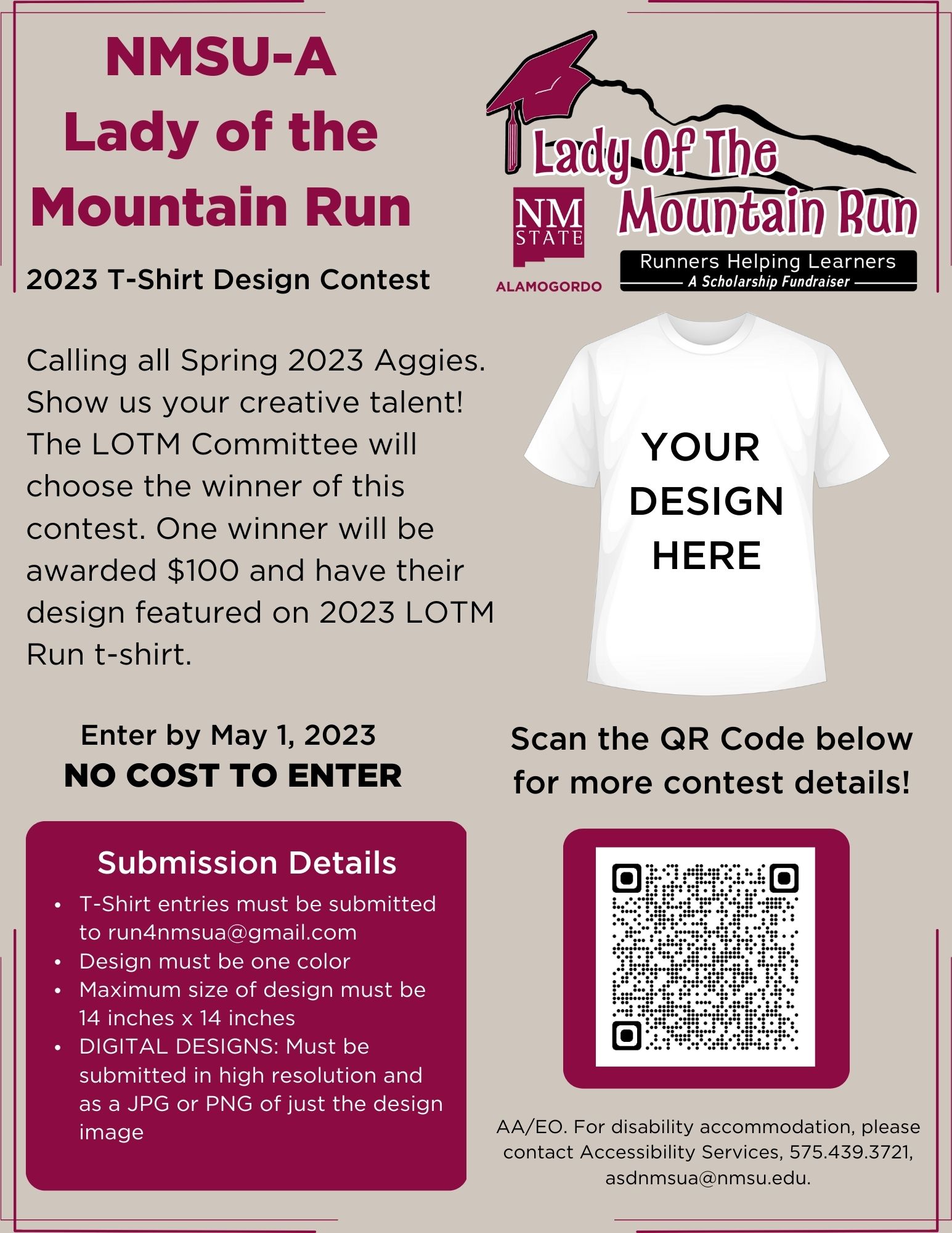 This event is a fund-raiser toward needs-based scholarships for students attending NMSU-A.
Calling all Spring 2023 Aggies. Show Us Your Creative Talent!
The LOTM Committee will decide the winner of this contest who will win $100 and have their design featured on 2023 LOTM Run T-Shirt.
Eligibility/Entry Rules
Open to all students enrolled at NMSU-A for the Spring 2023 semester.
There is no entry fee to submit a design.
Only one design submission per contestant. If you are under the age of 18, you may create a design but it must be submitted on your behalf by a parent or guardian.
T-Shirt Design must be your own original, unpublished work. By entering the competition, you agree that your submission is your own work, and the Lady of the Mountain Run committee ("LOTM)" has the exclusive right to the design, including any modifications thereof, for any use, distribution, publishing, sale or exploitation of the design.
Design must be one color
Maximum size of design must be 14 inches x 14 inches
DIGITAL DESIGNS: Must be in high resolution and to be submitted as a JPG or PNG of just the design image
T-Shirt entries must be submitted by May 1, 2023 to run4nmsua@gmail.com
Designs will be judged on the following criteria:
Originality – Does it show creativity and innovation?
Visibility – Is it eye catching and visible from a distance?
Relevant - Does it coincide with the mission of the LOTM?
Feasibility – Must be easy to reproduce
Publicity and Agreement: Contest entry constitutes an agreement by the submitting designers to grant free license of all copyrights of the submitted works to the LOTM in perpetuity, for publicity and promotional purposes.
Media Release: By submitting artwork, you agree that if your design wins, the LOTM retains first printing rights and a free license, for 2023, to utilize the design on t-shirts and other promotional items, and marketing, fundraising, and public relations materials. You are guaranteeing that your design does not contain any copyrighted material, including images/copy found on the internet, unless clearly marked as published under a Creative Commons (cc) license.